Always Stay Online and Active on Slack with WebSocket Framejacking

Goal: Find a simple way to always stay active on Slack, even if the browser is minimized or out of focus, without giving away your password to an online service or needing an API key.
Even though Slack is on a dedicated monitor beside you, if you're not focused on it you'll appear "away" and "not at your computer". Do you subconsciously think team members are sleeping when they appear away at 10 am? Let's always be active until we close the Slack tab or manually set ourselves as away. This is fair: Slack is open somewhere, so we are active.


Am I really away or offline when I'm in a different window?
By changing just four characters in Slack, we can always stay active without going inactive, even after hours and hours with a minimized browser.
---
Are There Existing Solutions?
Let's see what kinds of solutions exist or we can think of before we analyze an extremely simple and effective solution.
Online service that pretends to be you
One solution requires giving away your user name and password to an online service that pretends to be you just enough to convince Slack you are active. Who is to know how safe this is? This doesn't work for Enterprise Slack that uses SSO authentication.
Slack on an always-open smartphone
Another solution is to open Slack in the foreground on your phone and never let your phone sleep. You'll need a phone and charger.
Desktop Slack app with a mouse jiggler
Yet another solution is to open the Slack desktop app and use a mouse jiggler to prove to Slack you are active and awake. You'd need hardware or some way to nudge your mouse now and then, plus the desktop app.
Slack API to perform user actions
Others have even written Python, Java, NodeJS, etc. code to generate faux user activity via the Slack API with a personal API key. This seems like a neat idea, but the API changes now and then, and it is unclear how to how to change the user status. We like don't have Enterprise Slack access to the API.
You might consider writing a self-refreshing iframe that just loads Slack over and over again. Slack sets the X-Frame-Options header to sameorigin, so Slack will not even load in an iframe. Good thinking, though.
Selenium to click around in Slack
Another interesting solution is to fire up a web-testing framework like Selenium to load a headless browser that "clicks" around Slack now and again. Some steps are needed to enter your credentials (and hope the UI doesn't change and a Captcha doesn't appear), plus the programming knowledge required is high. This likely doesn't work with Enterprise Slack and SSO authentication.
---
Let's Arrive at a Neat Solution Together
As a rewarding read, let's arrive at this solution together by asking ourselves some questions.
Question: How does Slack know we are away? Does the browser signal inactivity or does the Slack server keep track?
Let's open Chrome DevTools and watch the console, XHR network requests, and WebSocket frames.




We see that when the browser loses focus and then is made active again, some console messages appear, but there are no similar WebSocket messages.
Question: Can we remove browser event listeners related to losing focus?
Let's try that. We can easily remove all blur event listeners using DevTools like so.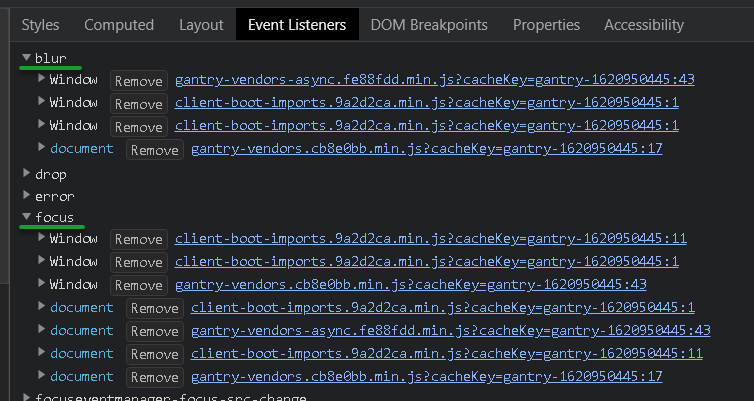 When we focus on another window or minimize the Slack window, no blur events fire. So far, so good. Now we wait for thirty minutes to see if we go inactive.
Some time goes by …
Darn. We went inactive. Let's see what network requests took place.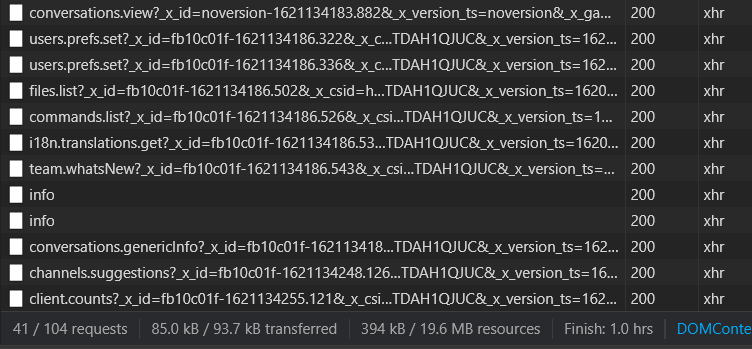 There were no unusual XHR requests, but there are some interesting WebSocket frames.


Did you notice these messages are response frames? We've now learned the server told us that we went inactive, but no browser event effectuated it.
Let see if there are any interesting messages when we return to an inactive Slack window.


The server again told us we became active when we entered the browser window.
Question: What user actions signal to the server we are active?
Let's click around the Slack channels and type some messages and observe the WebSocket.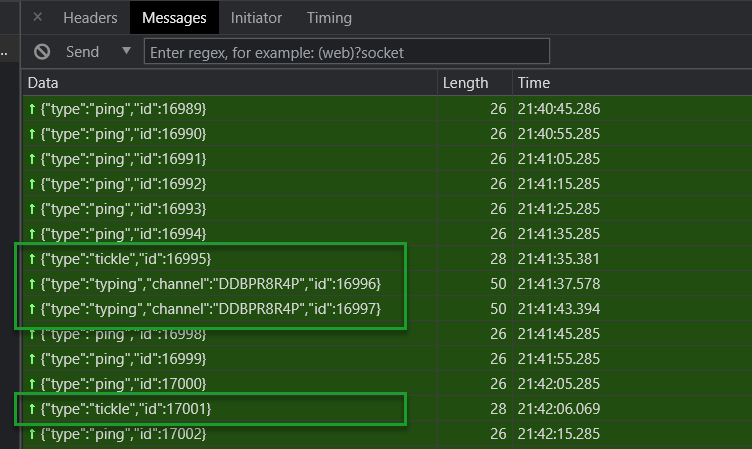 We see a common typing message when we initiate typing. We also see an uncommon tickle message occurring when the browser goes out of focus then back in focus followed by a click. These are the only two innocuous events to signal activity.
Question: Can we replay these activity messages?
No. There is a sequential id in the sent message frames. We cannot replay one of these messages under a JavaScript setInterval(), for example.
Question: Can we predict the next id in the sequence for spoofing?
We could be clever and try to keep track of the current sequence id, then replay a doctored activity message with an id++. We'd likely invalidate the next message with the genuine id, or even enter a race condition with an asynchronous invocation in the Slack web Service Worker.
Here is the logic used to keep track of the sequence ids if you are curious.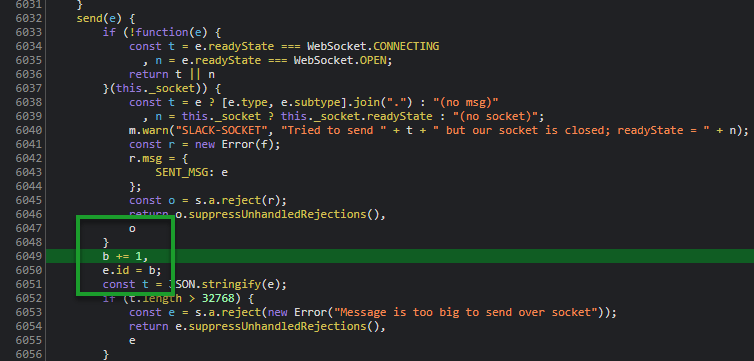 It's unclear if the sequence id is synchronized across new WebSockets, or if the sequences are reset or otherwise independent. Besides, Slack can modify its implementation at any time, say to send even-numbered sequence ids instead. Let's not be over-clever with the sequence ids and move forward on the assumption we cannot predict the sequence.
Question: Can we framejack ordinary, non-critical messages and modify them?
Let's look at some background messages and see what candidates there are for framejacking (my term for hijacking a WebSocket frame). A WebSocket, being a stream, may have a message fitting in a single frame, which is the case for most Slack messages. Let's look.


Ping! Every ten seconds or so a ping is sent to the server and a pong is received. A ping message has the same format as the tickle message.


Let's see if we can spoof a tickle message by changing the four characters "ping" to "tickle" in framejacked ping messages every few minutes (more on that soon). Possibly simple and elegant.
Question: Can we proxy the WebSocket constructor and handlers to intercept messages?
Yes and no. Granted, it's trivial to MITM WebSockets, known as intercepting, and make modifications. To save you a few hours, I'll tell you that WebSockets close and open and are even killed over time, so effort needs to be invested to ensure we always framejack the correct socket.


Question: Should we run setInterval() for framejacking all sockets?
No. I'll save you yet more time. Over the day, many sockets may be instantiated so many setInterval timers would be pending, and stacked internal timers can behave poorly, especially if variable references go out of scope in the meantime.
A wiser implementation is to not use timers as all and make use of timestamps whereby each incoming message kicks off some elapsed-time check to initiate the faux activity.
Question: Is there any downside to skipping pings?
Yes. WebSockets use a heartbeat protocol to know to keep the socket open on the server. Slack uses a ten-second ping-pong challenge with sequential messages, and the client-side JavaScript has a pong watchdog that will close the socket if one pong is missed.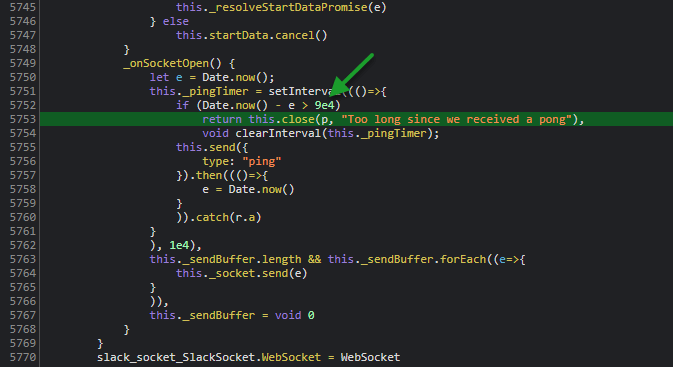 Here, every ten seconds a check for a pong with the same id as the ping is performed. If a matching pong is not found within ninety seconds, the client closes the socket. There is more logic in the send() method involving a buffer, but one missing pong will hold up the check.
Question: How can we safely framejack a ping then?
Let's not interfere with the Slack JavaScript or try to hack private variables. Should we prevent the socket from being closed? Here is an experiment I ran by editing the cache of a Slack JavaScript file.


What happened is no more pings were sent after one ping was framejacked and then Slack just stopped working a short while later.
Instead, let's intercept the ping, massage it into a tickle, and "receive" a well-crafted pong into the WebSocket layer so the client-side JavaScript is satisfied.


It's trivial to spoof a pong from the DevTools console, but we shouldn't be satisfied sending a simple JSON string as a pong, though; let's really forge a trusted EventMessage with all the trappings and attributes of a real message received on the wire. This makes it future-proof as well.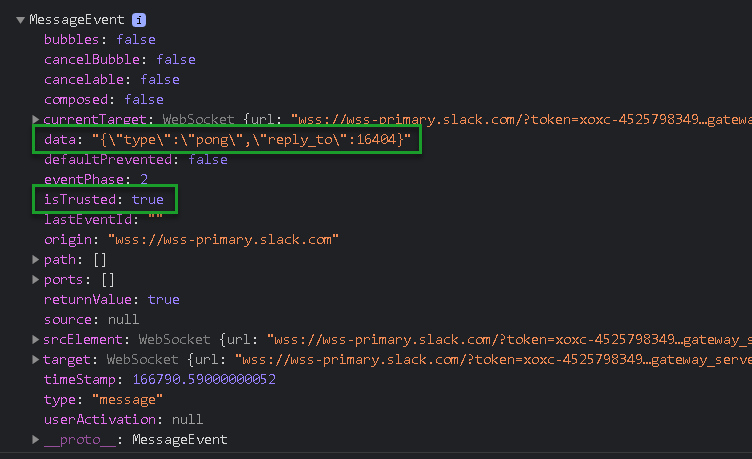 To save you yet more time, one cannot just forge a trusted EventMessage object (a real message received by WebSocket) and modify it; some engineering needs to be done to tamper with a read-only event message to return a valid pong, such as making the data attribute writeable.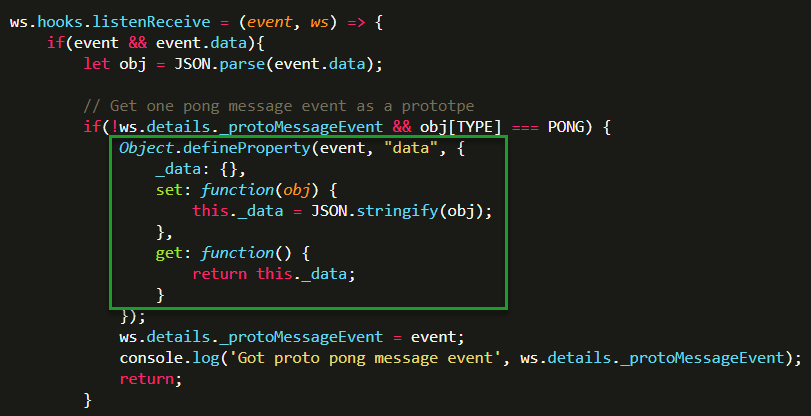 It's okay to admit that forging a trusted message is exciting. What we've done is saved a reference to a real pong (which we cannot easily clone), and made the data attribute writeable.
Question: Does this work with a minimized browser?
Yes. Slack uses a Service Worker that runs in the background in its own thread outside the rendering thread. Web Service Workers are responsible for sending alerts, updating charts, syncing data, and more.

Here is a console log of the script functioning well while the browser is minimized and hidden.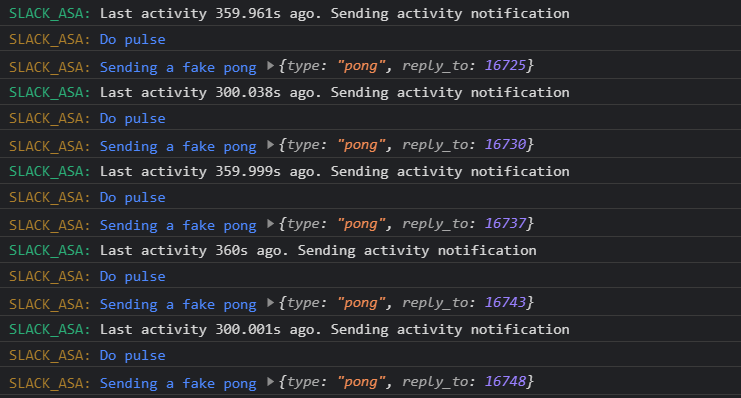 ---
The Slack: Always Stay Active Script
We only need Chrome (or Brave) with a popular1 browser extension called Tampermonkey to inject some JavaScript just on Slack pages.
This started as a proof of concept but expanded to include visual feedback and integrity checks to indicate if Slack changed something pertinent to our workflow. You can even remotely stop the script on all your browsers on different machines. You can still set yourself away manually as well. The script is laid out so it is easy to follow and verify its safety. Enjoy.
Quick Start
A thin orange line appears while Slack boots, then it becomes green when active.




If it goes red, internal sanity checks have failed so Slack has changed something major. This is designed to be future-proof, but if Slack changes tickle to, say, caress or nudge, then that is a breaking change to which we can still adapt.
Advanced Features
Send yourself these messages to control the script across all of your open Slack windows.
sigkill! – close all your open Slack windows.
sighup! – refresh all your open Slack windows.
Console Commands
You can test out the script from the DevTools console with the following invocations:
slackasa.ticklenow() – Framejack the next pong to signal activity now.
slackasa.listsockets() – List all the open sockets and timestamps.
slackasa.reload() – Reload the page.
---
Installation Steps
Important!
(Update Sept 25, 2022) Use a web browser that uses
Manifest V2
like FireFox or Chrome
before
2023. Chrome, Brave, Edge, and all Chromium-based browsers (most browsers) are moving to
declarative network requests
which block user scripts and cripple adblockers (Google makes money from ads).
Step 1. Add Tampermonkey to Chrome.


Step 2. Create a new empty userscript without saving.


Step 3. Copy and paste the script at the bottom of the page. Save. Close Tampermonkey.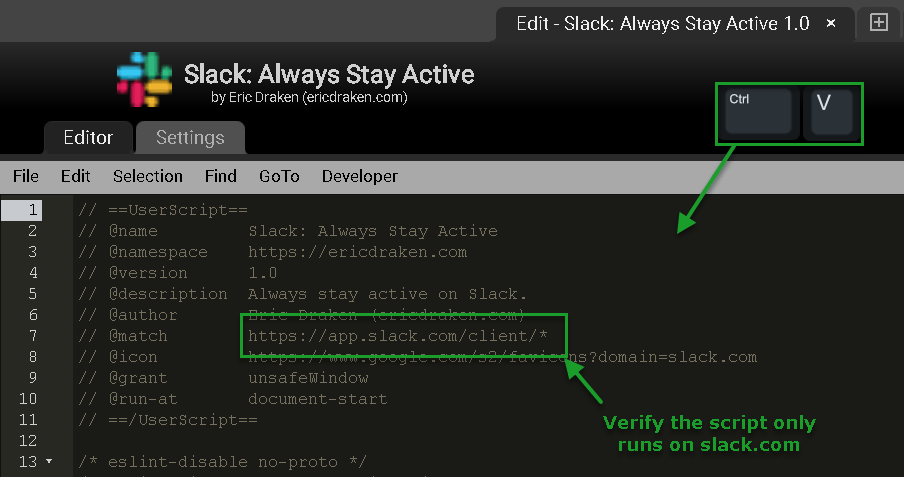 Step 4. Visit Slack. Find the Tampermonkey icon, and enable Tempermonkey and the 'Slack: Always Stay Active' userscript. Reload Slack.




---
Discussion
This started out as a mental exercise in finding a way to keep Slack active. Personally, I'm on web Slack all the time with it open on several computers and my phone, so at least once every thirty minutes I cause activity.
However, sometimes I'm engrossed in my IDE for long stretches and even though Slack is on a dedicated monitor beside me, I look "away" and "not at my computer" – far from it. Does this happen to you too?
Success: We've found a safe, viable, and non-intrusive solution to always stay active in Slack and Enterprise Slack, unless we close all Slack browser windows, with a tiny adjustment to one word in a well-timed WebSocket frame.
---
Full Script
This was written and developed in vanilla JavaScript in the Tampermonkey script editor in my spare time over the weekend. Encapsulation isn't perfect as it's not transpiled from TypeScript. The goal is to make it easy to read and understand. Why not publish this script? To require users to examine the code and verify it is safe as a habit. If you share this script, kindly attribute it. Thank you.
1

2

3

4

5

6

7

8

9

10

11

12

13

14

15

16

17

18

19

20

21

22

23

24

25

26

27

28

29

30

31

32

33

34

35

36

37

38

39

40

41

42

43

44

45

46

47

48

49

50

51

52

53

54

55

56

57

58

59

60

61

62

63

64

65

66

67

68

69

70

71

72

73

74

75

76

77

78

79

80

81

82

83

84

85

86

87

88

89

90

91

92

93

94

95

96

97

98

99

100

101

102

103

104

105

106

107

108

109

110

111

112

113

114

115

116

117

118

119

120

121

122

123

124

125

126

127

128

129

130

131

132

133

134

135

136

137

138

139

140

141

142

143

144

145

146

147

148

149

150

151

152

153

154

155

156

157

158

159

160

161

162

163

164

165

166

167

168

169

170

171

172

173

174

175

176

177

178

179

180

181

182

183

184

185

186

187

188

189

190

191

192

193

194

195

196

197

198

199

200

201

202

203

204

205

206

207

208

209

210

211

212

213

214

215

216

217

218

219

220

221

222

223

224

225

226

227

228

229

230

231

232

233

234

235

236

237

238

239

240

241

242

243

244

245

246

247

248

249

250

251

252

253

254

255

256

257

258

259

260

261

262

263

264

265

266

267

268

269

270

271

272

273

274

275

276

277

278

279

280

281

282

283

284

285

286

287

288

289

290

291

292

293

294

295

296

297

298

299

300

301

302

303

304

305

306

307

308

309

310

311

312

313

314

315

316

317

318

319

320

321

322

323

324

325

326

327

328

329

330

331

332

333

334

335

336

337

338

339

340

341

342

343

344

345

346

347

348

349

350

351

352

353

354

355

356

357

358

359

360

361

362

363

364

365

366

367

368

369

370

371

372

373

374

375

376

377

378

379

380

381

382

383

384

385

386

387

388

389

390

391

392

393

394

395

396

397

398

399

400

401

402

403

404

405

406

407

408

409

410

411

412

413

414

415

416

417

418

419

420

421

422

423

424

425

426

427

428

429

430

431

432

433

434

435

436

437

438

439

440

441

442

443

444

445

446

447

448

449

450

451

452

453

454

455

456

457

458

459

460

461

462

463

464

465

466

467

468

469

470

471

472

473

474

475

476

477

478

479

480

481

482

483

484

485

486

487

488

489

490

491

492

493

494

495

496

497

498

499

// @name Slack: Always Stay Active

// @namespace https://ericdraken.com/slack-always-stay-active

// @description Always stay active on Slack.

// @author Eric Draken (ericdraken.com)

// @match https://app.slack.com/client/*

// @icon https://www.google.com/s2/favicons?domain=slack.com

// @run-at document-start

/* eslint-disable no-proto */

/* eslint-disable accessor-pairs */

/* eslint-disable no-global-assign */

(

(

window

,

mutateEvent

)

=

>

{

const

INACTIVE_THRESHOLD_SECS

=

60

*

5

;

const

PING_THRESHOLD_SECS

=

60

;

const

PAGE_ERROR_THRESHOLD

=

10

;

const

YELLOW

=

'#ac7f2b'

;

/** Do not change below this line **/

const

APPNAME

=

'SLACK_ASA'

;

const

PING_MSG

=

{

"type"

:

"ping"

,

"id"

:

null

}

;

const

PONG_MSG

=

{

"type"

:

"pong"

,

"reply_to"

:

null

}

;

const

TYPING_MSG

=

{

"type"

:

"typing"

,

"channel"

:

null

,

"id"

:

null

}

;

const

TICKLE_MSG

=

{

"type"

:

"tickle"

,

"id"

:

null

}

;

const

PRESENCE_ACTIVE_MSG

=

{

"type"

:

"presence_change"

,

"presence"

:

"active"

,

"users"

:

[

null

]

}

;

const

PRESENCE_AWAY_MSG

=

{

"type"

:

"presence_change"

,

"presence"

:

"away"

,

"users"

:

[

null

]

}

;

const

MANUAL_PRESENCE_ACTIVE_MSG

=

{

"type"

:

"manual_presence_change"

,

"presence"

:

"active"

}

;

const

MANUAL_PRESENCE_AWAY_MSG

=

{

"type"

:

"manual_presence_change"

,

"presence"

:

"away"

}

;

const

TEXT_MSG

=

{

"type"

:

"message"

,

"user"

:

null

,

"text"

:

null

}

;

const

PULSE_CLASS

=

'asa-pulse'

;

let

userId

=

'--not set--'

;

// Prefix our messages with the app name and WS id for console filtering

_console

:

window

.

console

||

false

,

_doLog

(

level

,

color

,

.

.

.

args

)

{

const

ind

=

this

.

_socketId

!==

''

?

`

[

$

{

this

.

_socketId

}

]

`

:

''

;

this

.

_console

&&

this

.

_console

[

level

]

(

`

%

c

$

{

APPNAME

}

$

{

ind

}

:

`

,

`

color

:

$

{

color

}

`

,

.

.

.

args

)

;

this

.

_doLog

(

'log'

,

GREEN

,

.

.

.

args

)

;

this

.

_doLog

(

'info'

,

GREEN

,

.

.

.

args

)

;

this

.

_doLog

(

'error'

,

RED

,

.

.

.

args

)

;

this

.

_doLog

(

'debug'

,

YELLOW

,

.

.

.

args

)

;

const

console

=

Object

.

assign

(

{

}

,

protoConsole

,

{

_socketId

:

''

}

)

;

id

:

'SAA229064402df15c8079ac'

,

// Something random

if

(

this

.

_div

&&

this

.

_div

.

style

)

{

this

.

_div

=

document

.

createElement

(

'div'

)

;

this

.

_div

.

style

.

cssText

=

''

+

'display:block;position:fixed;overflow:hidden;'

+

'top:0;left:0;width:100%;height:2px;opacity:0.5;'

+

'z-index:2147483647;background:#fff;'

document

.

body

.

appendChild

(

this

.

_div

)

;

// Animation - pulse effect on the banner

const

style

=

document

.

createElement

(

'style'

)

;

animation

-

direction

:

normal

;

animation

:

asapulse

linear

1s

1

;

-

webkit

-

transform

:

scale

(

1

)

;

-

webkit

-

transform

:

scale

(

4

)

;

-

webkit

-

transform

:

scale

(

1

)

;

document

.

head

.

appendChild

(

style

)

;

const

div

=

this

.

getStatusDiv

(

)

;

if

(

div

.

dataset

.

bg

!==

GREEN

)

{

console

.

log

(

'Set active'

)

;

div

.

dataset

.

bg

=

div

.

style

.

background

=

GREEN

;

const

div

=

this

.

getStatusDiv

(

)

;

if

(

div

.

dataset

.

bg

!==

GREY

)

{

div

.

dataset

.

bg

=

div

.

style

.

background

=

GREY

;

const

div

=

this

.

getStatusDiv

(

)

;

div

.

style

.

background

=

YELLOW

;

console

.

debug

(

'Set booting'

)

;

const

div

=

this

.

getStatusDiv

(

)

;

div

.

style

.

background

=

RED

;

console

.

error

(

`

Problem

:

$

{

e

}

`

)

;

const

div

=

this

.

getStatusDiv

(

)

;

div

.

classList

.

remove

(

PULSE_CLASS

)

;

div

.

getClientRects

(

)

;

// Trigger a reflow

div

.

classList

.

add

(

PULSE_CLASS

)

;

console

.

debug

(

'Do pulse'

)

;

// Of all the multiple XHR objects, only intercept the boot request's user id

const

xhrProtoOpen

=

window

.

XMLHttpRequest

.

prototype

.

open

;

window

.

XMLHttpRequest

.

prototype

.

open

=

function

(

)

{

if

(

window

.

XMLHttpRequest

.

prototype

.

open

!==

xhrProtoOpen

)

{

window

.

XMLHttpRequest

.

prototype

.

open

=

xhrProtoOpen

;

that

.

addEventListener

(

'load'

,

(

ev

)

=

>

{

const

xConsole

=

Object

.

assign

(

{

}

,

protoConsole

,

{

_socketId

:

'XHR'

}

)

;

const

bootData

=

JSON

.

parse

(

ev

.

currentTarget

.

responseText

)

;

// Get the logged-in user id

userId

=

bootData

.

self

.

id

;

xConsole

.

log

(

'My Slack user id:'

,

userId

)

;

xConsole

.

error

(

'Unable to get the logged in user id. Commands disabled.'

)

;

xConsole

.

log

(

JSON

.

stringify

(

bootData

,

null

,

2

)

)

;

xhrProtoOpen

.

apply

(

that

,

arguments

)

;

const

objMatchesProto

=

(

protoMsg

,

testObj

,

contains

)

=

>

{

return

Object

.

keys

(

protoMsg

)

.

every

(

key

=

>

{

if

(

protoMsg

[

key

]

===

null

)

{

// Nulls in the proto values can be wild, but must exist

return

typeof

testObj

[

key

]

!==

'undefined'

;

}

else

if

(

(

protoMsg

[

key

]

||

{

}

)

.

constructor

===

Array

&&

(

testObj

[

key

]

||

{

}

)

.

constructor

===

Array

)

{

return

testObj

[

key

]

.

includes

(

contains

)

;

return

protoMsg

[

key

]

===

testObj

[

key

]

;

const

WebSocketProxy

=

new

Proxy

(

window

.

WebSocket

,

{

construct

(

wsTarget

,

wsArgs

)

{

const

ws

=

new

wsTarget

(

.

.

.

wsArgs

)

;

interceptSend

:

(

)

=

>

null

,

listenReceive

:

(

)

=

>

null

_lastPingSent

:

Date

.

now

(

)

,

_lastTickleSent

:

Date

.

now

(

)

,

_protoMessageEvent

:

undefined

,

_wantsActive

:

this

.

_wantsActive

,

_hasProblem

:

this

.

_hasProblem

,

_isPingChannel

:

this

.

_isPingChannel

,

_lastPingSent

:

this

.

_lastPingSent

,

_lastTickleSent

:

this

.

_lastTickleSent

,

return

this

.

_wantsActive

===

true

;

return

this

.

_wantsActive

===

false

;

return

Date

.

now

(

)

-

this

.

_lastTickleSent

;

this

.

_ws

.

console

.

debug

(

'Clearing last tickle timestamp'

)

;

this

.

_lastTickleSent

=

0

;

return

Date

.

now

(

)

-

this

.

_lastPingSent

;

return

this

.

_isPingChannel

;

// If a tickle hasn't been sent in a while, return false

return

this

.

lastTickleElapsed

(

)

>

(

INACTIVE_THRESHOLD_SECS

+

120

)

*

1000

;

return

this

.

lastPingElapsed

(

)

>

PING_THRESHOLD_SECS

*

1000

;

return

!

(

this

.

wantsActive

(

)

||

this

.

wantsAway

(

)

)

;

checkHasAnyInternalProblem

(

)

{

return

this

.

hasSocketProblem

(

)

&&

this

.

hasTickleProblem

(

)

&&

this

.

hasPresenceProblem

(

)

;

if

(

this

.

hasTickleProblem

(

)

)

{

statusDiv

.

setProblem

(

'A tickle has not been sent lately'

)

;

}

else

if

(

this

.

hasSocketProblem

(

)

)

{

statusDiv

.

setProblem

(

'Pings are not being sent on time'

)

;

}

else

if

(

this

.

hasPresenceProblem

(

)

)

{

statusDiv

.

setProblem

(

`

Manual

presence

change

type

is

unknown:

$

{

this

.

_wantsActive

}

`

)

;

}

else

if

(

this

.

isSocketReady

(

)

)

{

// Set the bar color to active or away

if

(

this

.

wantsActive

(

)

)

{

}

else

if

(

this

.

wantsAway

(

)

)

{

}

else

if

(

!

this

.

checkHasAnyInternalProblem

(

)

)

{

this

.

_hasProblem

=

false

;

ws

.

send

=

new

Proxy

(

ws

.

send

,

{

apply

(

target

,

thisArg

,

args

)

{

ws

.

hooks

.

interceptSend

(

args

,

ws

)

;

ws

.

details

.

updateState

(

)

;

return

target

.

apply

(

thisArg

,

args

)

;

ws

.

addEventListener

(

'message'

,

function

(

event

)

{

ws

.

hooks

.

listenReceive

(

event

,

ws

)

;

ws

.

addEventListener

(

'open'

,

function

(

event

)

{

ws

.

console

.

log

(

`

Open

:

$

{

event

.

target

.

url

}

`

)

;

ws

.

addEventListener

(

'close'

,

function

(

event

)

{

ws

.

console

.

log

(

`

Close

:

$

{

event

}

`

)

;

errorOverwatch

(

'Socket closed'

)

;

ws

.

addEventListener

(

'error'

,

function

(

event

)

{

ws

.

hooks

.

listenReceive

=

(

event

,

currWs

)

=

>

{

const

details

=

currWs

.

details

;

if

(

event

&&

event

.

data

)

{

let

obj

=

JSON

.

parse

(

event

.

data

)

;

if

(

objMatchesProto

(

PONG_MSG

,

obj

)

)

{

// Get one pong message event as a prototype

if

(

!

details

.

_protoMessageEvent

)

{

details

.

_protoMessageEvent

=

event

;

currWs

.

console

.

log

(

'Got proto pong message event'

,

details

.

_protoMessageEvent

)

;

else

if

(

objMatchesProto

(

MANUAL_PRESENCE_AWAY_MSG

,

obj

)

)

{

currWs

.

console

.

debug

(

`

Manual

away

change

detected

:

$

{

event

.

data

}

`

)

;

details

.

_wantsActive

=

false

;

// Detect manually active

else

if

(

objMatchesProto

(

MANUAL_PRESENCE_ACTIVE_MSG

,

obj

)

)

{

currWs

.

console

.

debug

(

`

Manual

active

change

detected

:

$

{

event

.

data

}

`

)

;

details

.

_wantsActive

=

true

;

else

if

(

objMatchesProto

(

PRESENCE_AWAY_MSG

,

obj

,

userId

)

)

{

currWs

.

console

.

debug

(

`

Away

update

detected

:

$

{

event

.

data

}

`

)

;

details

.

_wantsActive

=

false

;

else

if

(

objMatchesProto

(

PRESENCE_ACTIVE_MSG

,

obj

,

userId

)

)

{

currWs

.

console

.

debug

(

`

Active

update

detected

:

$

{

event

.

data

}

`

)

;

details

.

_wantsActive

=

true

;

// Listen for user commands

else

if

(

objMatchesProto

(

TEXT_MSG

,

obj

)

)

{

const

keys

=

Object

.

keys

(

TEXT_MSG

)

;

if

(

obj

[

keys

[

1

]

]

===

userId

)

{

const

msg

=

(

obj

[

keys

[

2

]

]

||

''

)

.

trim

(

)

.

toLowerCase

(

)

;

currWs

.

console

.

log

(

'User SIGKILL received. Closing this window.'

)

;

document

.

location

.

href

=

'about:blank'

;

currWs

.

console

.

log

(

'User SIGHUP received. Reloading this window.'

)

;

document

.

location

=

document

.

location

;

ws

.

hooks

.

interceptSend

=

(

data

,

currWs

)

=

>

{

const

details

=

currWs

.

details

;

if

(

data

&&

data

.

constructor

===

Array

)

{

let

obj

=

JSON

.

parse

(

payload

)

;

if

(

objMatchesProto

(

PING_MSG

,

obj

)

)

{

if

(

details

.

_isPingChannel

!==

true

)

{

details

.

_isPingChannel

=

true

;

currWs

.

console

.

log

(

`

Found

the

ping

socket

:

$

{

data

}

`

)

;

details

.

_lastPingSent

=

Date

.

now

(

)

;

// Hijack ping and replace with tickle

if

(

ws

.

details

.

isSocketReady

(

)

)

{

let

tickleElapsed

=

ws

.

details

.

lastTickleElapsed

(

)

;

if

(

tickleElapsed

>

INACTIVE_THRESHOLD_SECS

*

1000

)

{

currWs

.

console

.

log

(

`

Last

activity

$

{

tickleElapsed

/

1000

}

s

ago

.

Sending

activity

notification

`

)

;

details

.

_lastTickleSent

=

Date

.

now

(

)

;

const

typeKey

=

Object

.

keys

(

PING_MSG

)

[

0

]

;

const

idKey

=

Object

.

keys

(

PING_MSG

)

[

1

]

;

obj

[

typeKey

]

=

TICKLE_MSG

[

typeKey

]

;

data

[

0

]

=

JSON

.

stringify

(

obj

)

;

setTimeout

(

(

_ws

,

id

)

=

>

{

// Send a fake pong into the socket to fulfill the promise

const

replyKey

=

Object

.

keys

(

PONG_MSG

)

[

1

]

;

const

pong

=

Object

.

assign

(

{

}

,

PONG_MSG

,

{

[

replyKey

]

:

id

}

)

;

_ws

.

console

.

debug

(

'Sending a fake pong'

,

pong

)

;

_ws

.

details

.

_protoMessageEvent

.

data

=

pong

;

_ws

.

onmessage

(

_ws

.

details

.

_protoMessageEvent

)

;

}

,

500

,

currWs

,

obj

[

idKey

]

)

;

}

else

if

(

objMatchesProto

(

TICKLE_MSG

,

obj

)

||

objMatchesProto

(

TYPING_MSG

,

obj

)

)

{

currWs

.

console

.

log

(

`

Genuine

activity

notification

:

$

{

data

}

`

)

;

details

.

_lastTickleSent

=

Date

.

now

(

)

;

window

.

_websockets

=

window

.

_websockets

||

[

]

;

window

.

_websockets

.

push

(

ws

)

;

// One console per websocket

ws

.

console

=

Object

.

assign

(

{

}

,

protoConsole

,

{

_socketId

:

window

.

_websockets

.

length

-

1

}

)

;

const

errorOverwatch

=

(

e

)

=

>

{

if

(

e

&&

e

.

target

&&

e

.

target

===

'img'

)

{

protoConsole

.

error

(

errorCount

,

e

)

;

if

(

errorCount

>=

PAGE_ERROR_THRESHOLD

)

{

console

.

info

(

"Too many errors. Reloading the page."

)

;

document

.

location

=

document

.

location

;

[

'error'

,

'unhandledrejection'

]

.

forEach

(

(

name

)

=

>

{

window

.

addEventListener

(

name

,

errorOverwatch

,

{

capture

:

true

}

)

;

window

.

error

=

errorOverwatch

;

window

.

WebSocket

=

WebSocketProxy

;

// Debug commands from the console

window

.

_websockets

.

forEach

(

(

ws

)

=

>

{

ws

.

details

.

clearTickleTimestamp

(

)

;

document

.

location

=

document

.

location

;

window

.

_websockets

.

forEach

(

(

ws

)

=

>

{

ws

.

console

.

log

(

JSON

.

stringify

(

Object

.

assign

(

{

_isOpen

:

ws

.

readyState

===

ws

.

OPEN

}

,

ws

.

details

.

debug

(

)

)

,

null

,

2

)

)

;

window

.

setTimeout

(

(

)

=

>

{

throw

new

Error

(

"Expected error!"

)

errorCount

=

PAGE_ERROR_THRESHOLD

-

1

;

}

)

(

unsafeWindow

||

window

,

(

immutableEvent

)

=

>

{

const

isStrict

=

(

function

(

)

{

throw

new

Error

(

"This won't work in strict mode"

)

;

// Outside of the strict scope

Object

.

defineProperty

(

immutableEvent

,

"data"

,

{

this

.

_data

=

JSON

.

stringify

(

obj

)

;
Notes:
There are over 10 million users of Tampermonkey. ↩
---